Music festivals are super unpredictable! One minute it's sunny and beautiful out and next thing you know its pouring down rain! Over the course of the summer I've had a few festival fashion favourites that have stuck by me. Items that I have added to my wardrobe that allow me to mix and match with other outfits due to their versatility. As much as we love to dress things up for the summer and festival season, it is always nice to know that the investment your making in your clothes is going to pay off. This happens when you see that your purchase can be combined with other pieces in your wardrobe.
Festival Fashion Look
My festival go-to picks start with the Garage Midi Bodycon Lace Up Top. Lace up tops are super trendy this summer! They let you keep a clean t-shirt or tank look by add some personality at the neck line. My pick was a crisp white one which fit really well and was super comfortable for the day. A warm festival atmosphere always calls for a white tee to help you keep cool.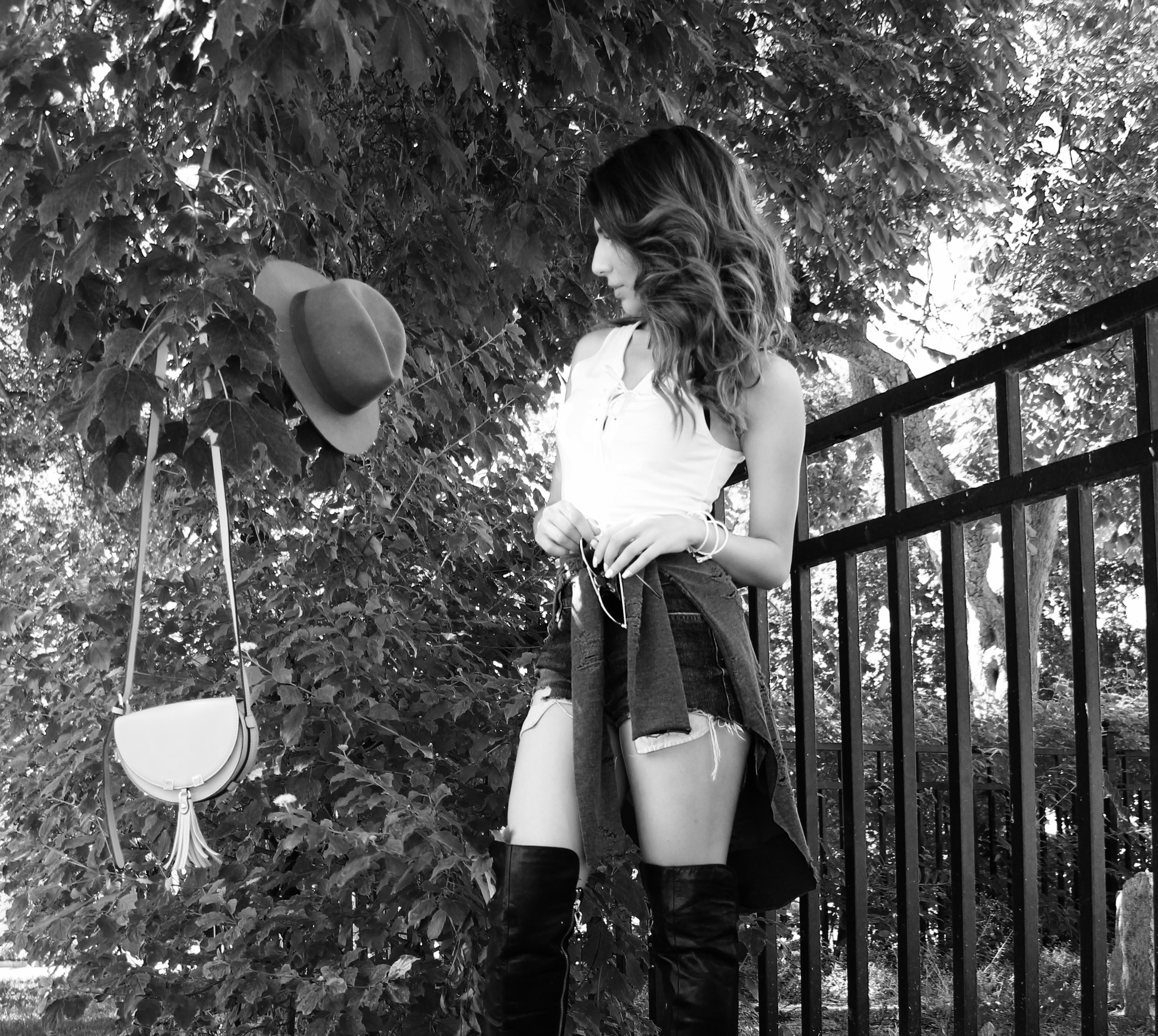 Festival Fashion Accessories
The most festival specific item on this list is the Dynamite Crossbody Bag with Tassel half-moon purse in rose. I specifically picked this out because it keeps a light carry-on option when traveling around a festival all day. However the cross-body bag is spacious enough to fit in a cell phone, small camera and some accessories like a lipstick or compact.
For accessories I opted for a mix of two chokers I picked up from Aldo, my favourite being the Aldo Zoira Midnight Black Choker Necklace and then a brown one that had a long string attachment that matched my t-shirt really well! Mixing the two together was a great way to blend the browns and blacks in my boots and hat statement pieces.
Layering It Up
When a sunny humid festival day takes a turn and it starts to pour, it really helps to be prepared!
My H&M Trashed Top was super integral is helping take cover from the rain! I made sure I paired this with my knee-high leather Aldo boots that I had picked up in the fall season. Together they kept the mud off my feet and helped me stay sheltered from the rain. Having a fedora is always a bonus! Personally I'm obsessed with my brown fedora from Urban Outfitters. It's the best investment I've made so far!
Keeping Cool
Though you have to prepared for the worst! A summer festival is all about enjoying the sun and good vibes that come with the music. My Topshop MOTO Distressed Rosa Shorts were the perfect pair of shorts for the occasion. Not only did they look super trendy but were super comfortable to help deal with the heatwave! Super fun to dance in and the just the perfect mix of fashion and function!!
To explore more of my festival experiences be sure to subscribe to my channel on Youtube here!! :)
Let me know what your favourite festival moments were in the comments below!
Until next time! xx